The Do's and Dont's for Email Marketing during the Corona Crisis
|
Reading time 2 minutes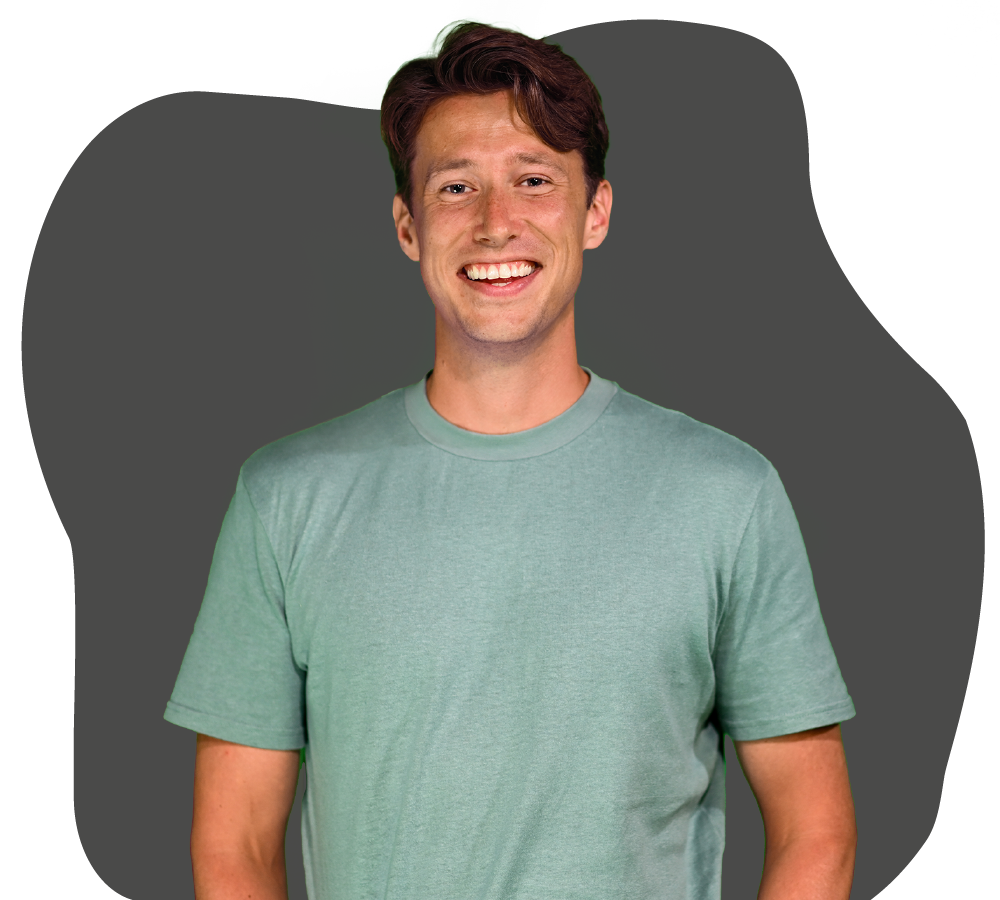 By Patrick Schokker
In recent weeks, many marketers have been looking for a good strategy for their email marketing during the corona crisis. In this time of crisis, it is essential that your message is relevant and in tune with the current situation of your target group. It is especially important not to act as if nothing is wrong. The whole of the Netherlands is currently in the same situation. But what are the do's and don'ts for e-mail marketing during the corona crisis?
Do's 
#1. Staying on top of mind
During a crisis, it is important to stay on top of your customers' minds with the right frequency. E-mail is the perfect channel for this. Keep your customers informed of current developments within your company, so they know where they stand.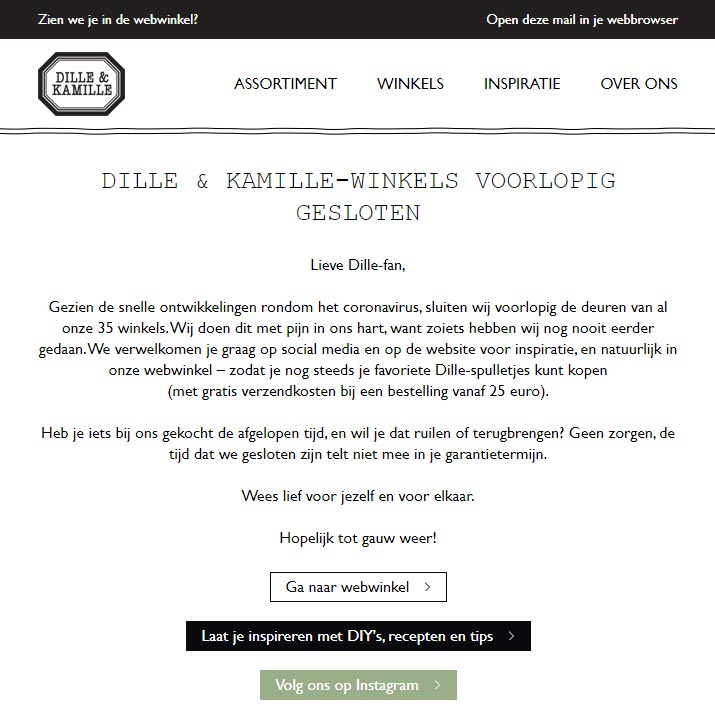 #2. Make the e-mail attractive
Emails become much more attractive when you add images to them. And an attractive e-mail makes customers want to read your e-mail. Especially in these uncertain times, the added image in your e-mails gives a warmer feeling. With images you can also make your e-mail more personal. You can do this by simply adding a picture of the person who sent the e-mail. 
#3. Variety of content
Many companies have been writing a lot about the Coronavirus lately (logical), but for the reader, some variety is also nice. Therefore, write relevant and unique information about your company. Information that readers most likely have not seen before. For example, share how your service/product can solve a specific problem of your target group related to the virus. It doesn't have to be a heavy message. You can also add a light-hearted fact to the information in your e-mail.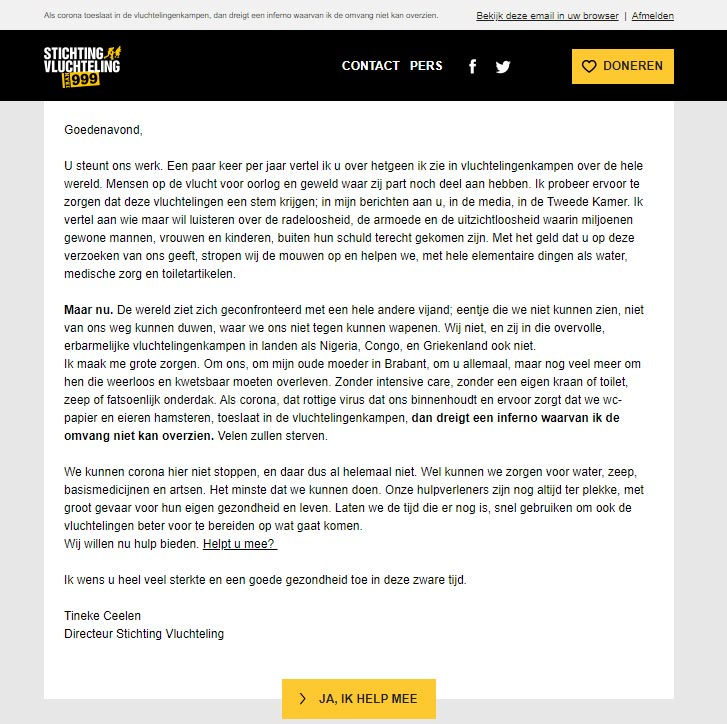 #4. Try to help your target group

Show that you sympathise with your target group in the current situation. Show that you are trying to make the measures a bit more bearable for them with your services or products. Provided that your services/products are appropriate for the present time. Both your message and your solutions should be in line with the problems experienced by your target group. Here are a few examples to inspire you: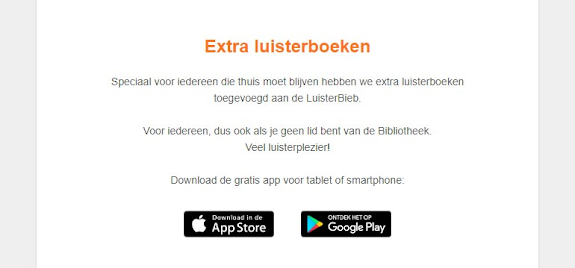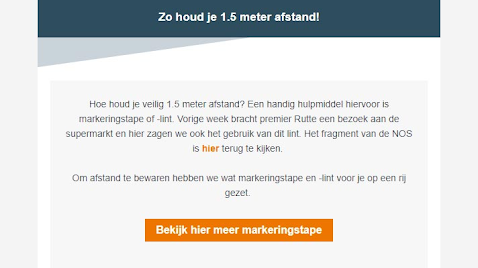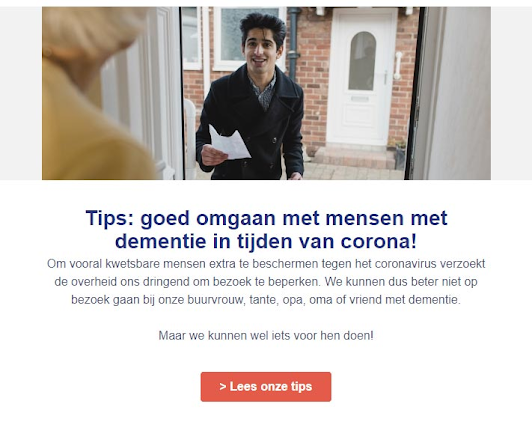 Dont's 
#1. Being distant
This is a pitfall for many companies. You may think that it is not appropriate to send e-mails in this day and age or that your target group does not want it. But as we already mentioned in the do's, this is precisely the time to stay on top of mind. It is not at all strange to make yourself vulnerable as a company in this period. Be honest that you too face challenges, for example. This is what connects readers to your company. 
#2. Mailing without an underlying message
If you have nothing relevant to share, don't mail. If you only mail to stay on top of things, you only increase the risk of unsubscribes and irritation. The idea is that readers actually benefit from the information you send them. That it fulfils a need of the readers.

Staying on top-of-mind is important, of course, which is why you need to mail regularly, but with relevant information. Don't have anything to send but still want to mail? Then come up with a nice promotion or discount on your services/products.
Using e-mail marketing during the corona crisis
Through marketing automation you can automatically send emails based on the behaviour and actions of your target group. This also helps during this period. So you always send the right message at the right time to the right person and you do not miss any potential customers because you react to this too late.
Do you want to know more about online marketing in times of crisis or do you want to use marketing automation in this period?
Then please contact with us!